Well, not really the beach, but the pier & not really a day, but the long Labor Day Weekend. The US Sand Sculpture Challenge & 3D Expo 2013 is now history and all the tons of sand that were used to create the amazing sand sculptures has now been scraped up & hauled away (but not dumped into the bay!). Crowds of thousands braved the unusually hot & muggy weather to see massive, mind-boggling creations built of nothing but sand, water & sweat.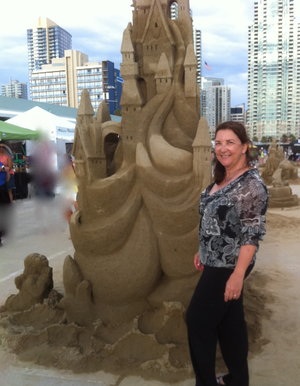 This shot is of the back side of one of the amateur winners so you can see the lovely downtown skyline. We were fortunate to have the marines to protect our flank: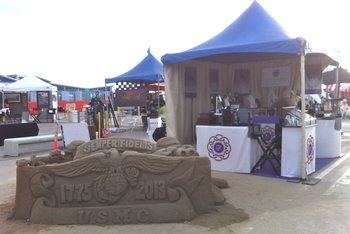 Despite getting sand into everything (after all, that's what happens at the beach…), it was a hugely successful show for me. Thanks to all my new & repeat clients for their support & especially to my dedicated TEAM ROCKS: Mary, Donna & Red, without whose support, time, energy & encouragement such an endeavor would not be remotely possible.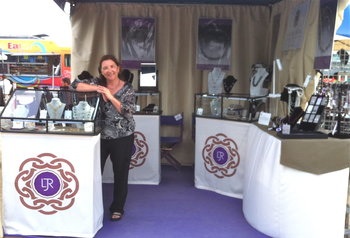 Next show is TBA, but watch the website for new creations.
Next week: sometimes it's good to be B.A.D.