Today I'll continue my series on Fabulous Flaws with Phantom Quartz. I just love the name–Phantom–sounds so exotic/romantic/mysterious. As you look into the patterns of each bead, it's almost like looking into tiny crystal balls. The colors range from light green to very dark forest green; some of the phantoms (the name of the inclusions) are well defined swirls & others have a cloudy, dreamy appearance. Every one is unique. I've combined 680 ct of large 12 mm amazing Phantom Quartz beads with a heavy, hand-carved jade medallion depicting a dragon using hand-made Argentium® sterling silver links & beads. It is finished with a cool fold-over Argentium® sterling silver magnetic clasp that is easy to use & very secure. The matching bracelet has the same clasp, so they can be connected to make a longer necklace if you want to wear it over sweaters in the winter for example.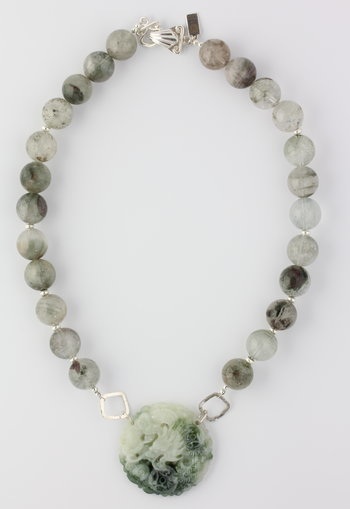 Phantom Dragon necklace (21.5″) $295; bracelet (9″-fits up to 7.5″ wrist) $175, plus tax & shipping.  This is a heavy, statement piece for a bold wearer.
These pieces are not on the website yet, so email me if you are interested.