When we think of pearls, it is usually salt-water pearls that we visualize, growing in an oyster. Cultured in various species of Pinctada oysters in the oceans of the south Pacific region, they are generally referred to as South Sea Pearls with subtypes of Tahitian & Akoya.
Akoya pearls are only grown in the cooler waters off Japan & take 10-18 months to grow to a size of 2-10 mm (average offered for sale is about 7 mm). They can be lightly bleached or tinted during processing. They come in colors of silver/white, rose, cream, gold & blue/grey and & known for their mirror-like luster. The very best are graded "hanadama".
Tahitian pearls are grown for 2-3 years around the islands of French Polynesia & a few other mid-south Pacific islands to achieve a size of 8-15 mm. Although commonly referred to as "black" pearls, they actually come in natural colors of grey, silver, black, peacock, eggplant, aubergine, green (pistachio), olive green, blue & magenta. They are not color enhanced or treated in any way.
South Sea pearls are grown in the waters of Australia, Indonesia, the Philippines, Mayanmar & Thailand. After 2-3 years they achieve a size of 8-22 mm & come in natural colors of white, silver/white, pink, gold & champagne. They are also not enhanced in any way & their luster is more satin-like compared to Akoyas.
Fresh water pearls are grown in mussels (not oysters) & have a long history in native American culture. Once commonly cultured in Japan & several places in the USA, there is now only limited production in Japan & 2 farms in the USA (TN & CA). The vast majority are now almost exclusively the product of China. The Chinese farms have perfected fresh water pearl cultivation to the point where they are very beautiful & sometimes difficult to distinguish from salt water pearls. Their culture conditions are manipulated to achieve different colors & they are frequently dyed (usually a permanent treatment) or otherwise enhanced to come in a rainbow of every imaginable color. Some of the best fresh water pearls are called Freshadama, which is a term trademarked by Pearl Paradise & is a play on the best quality "hanadama" Akoya pearls.
Generally, salt water pearls are worth 5-200 times what a similar sized fresh pearl is worth, so to be sure that you are not paying salt water pearl prices for fresh water pearls, buy only from trusted sources!
Here is my Shimmering Seas fresh water pearl and labradorite necklace.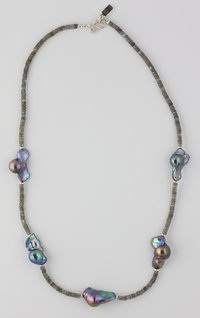 Next week, I'll talk about the various different shapes of pearls, how to judge quality & what you should expect to pay.