Well, we are still here in Tucson for another day, so I thought I'd check in tonight.   I checked out the "Best Bead Show" this year, & as expected, there was a plethora of seed beads of every shape, size, color & assortments, as well as hand made beads of all types.  Blown glass, lampwork glass, wood, polymers, various metals & some unidentified materials filled the isles & tents.  Walking down a row, I spied some gorgeous glass beads & as I looked up to see the amazing goblets & vases on the back shelves, I recognized the artist before i even saw his name.  I have collected Stuart Abelman's vases, oil lamps, paperweights & ornaments for many years from his shows, but this was the first time I have seen this line of big beads.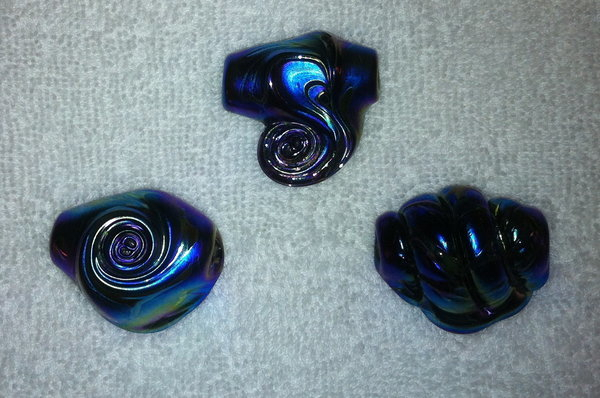 The photo (maybe it's time to get a new iphone…….) doesn't do them justice–the mesmerizing flow of purple, blue, magenta & green colors, with the blending of shiny & matte finishes is awesome.  They remind me of the photos taken by space telescopes of swirling nebulae & clouds of cosmic gas.  I foresee a collection of kumihimo glass bead woven necklaces with these as the focal elements.  I'll post the first one as soon as I get it together back home.
The grandaddy of them all, the Tucson Gem & Mineral Society Show opens tomorrow at the Convention Center.  We'll check that out & be heading back to La Jolla on Friday to start fabricating dazzling jewels utilizing all the goodies I have collected this last week.  This has been a wonderful trip exploring everything from mineral specimens to the finest diamond jewelry at 9 or more shows (I seem to have lost track).  The spectacular summery weather has contributed to a fine time except for Mary & me getting rotten colds that did slow us down, but just a bit.