Last week I described general shopping options for fine jewelry. Even with the internet, there are still some advantages to TV shopping. Usually the item for sale is fully described, displayed extensively from all angles & modeled. Some stations specialize in jewelry, but with most, jewelry makes up a small portion of their programing. ALL have websites that carry varying amounts of what is available on the TV shows. In most markets all these stations air 24 hours a day. In order of my least favorite to most favorite, here is my review of TV jewelry shopping (check your cable/sat provider for actual station numbers):
Liquidation Channel: As the name implies, they exclusively sell heavily marked down jewelry merchandise. Usually it is sterling & inexpensive stones as well as lower value unset stones. Prices start at $7.99 and mostly top out at $79.99. They make a big deal that their sterling is "nickel-free", but most sterling should be free of nickel contaminants & the copper will still allow it to tarnish unless it is rhodium plated. Occasionally, there will be a higher end ring (e.g. tanzanite in gold) for several hundreds dollars, so they do have a small amount of fine jewelry, but not much. Watch closely, as some of the cheaper offerings are NOT returnable. I have never purchased from them.
AAN (America's Auction Network): This station offers a bizarre combination of quality gemstones, finished high end jewelry, coins, currency, oriental rugs, paintings, sculptures & foreclosed Florida real estate (real estate–really???). Jewelry makes up about a third of their airtime. They seem to have high end items, but don't always showcase them very well. It seems all the jewelry & gemstones are presented by men wearing weird white gloves, which looks a bit freaky to me (maybe they don't want to spend money on manicures). They don't have models. I have never bought anything from them, but you can get a great tour of Florida homes in distressed neighborhoods.
JTV (Jewelry Television): They tout themselves as the largest retailer of gemstones in the world. That may be true if they are counting all the strings of beads that they sell. They sell only finished jewelry, gemstones, settings & tools to make jewelry–nothing else–so different from the big three TV shopping networks. Most of the finished jewelry is of lower quality with lots of sterling, vermeil & synthetic diamonds. It must originate in the South, as everyone has a noticeable drawl & the hosts tend to build up the suspense when offering items, trying to make them seem more rare or valuable than they are. That said, the prices are not too bad for what you are getting. They have a strict 30 day return policy. My favorite show is "Jewel School" which airs on Sunday, Monday & sometimes Wednesday mornings for 2 hours. On this program, they feature strings of beads (some more valuable & some synthetic/dyed) as well as jewelry making tools, gadgets & instructional DVDs, usually with guests that demonstrate the items. I have bought a fair amount of better strings of beads & tools from them & have been satisfied with their service.
Shop HQ (previously known as Shop NBC & before that as Value Vision): The smallest of the "Big 3", this company has undergone a lot of changes over the last 15 years. As Value Vision, they sold a lot of jewelry, loose gemstones & watches; much of it higher quality. Laura & John Ramsey, a popular gemologist & designer couple, were featured for years & their stuff was pretty nice. They left under undisclosed, unhappy circumstances & now this station offers clothes, accessories, housewares, electronics, beauty products & fitness items as well as jewelry. Jewelry makes up probably less than 20% of their airtime & is usually of lower quality sterling, vermeil pieces & watches, which I feel to be overpriced. I have bought many items over the years, but less so recently as I don't think the quality is there anymore.
HSN (Home Shopping Network): One of the 2 behemoths, this station offers the same wide-ranging assortment as Shop HQ, with items a bit more expensive & possibly a bit better quality. They also offer sewing & scrap-booking shows with some good values. They have a lot of "name" brand shows with guests from the manufacturer (like Iman & her clothing line). I have bought some clothes from them, but have not been terribly impressed as the cost is relatively high & the quality not as good as I expected for the price. They sell only finished jewelry (usually sterling or vermeil) & costume watches, using probably less than 15% of their airtime for these items. Some of their offering in the housewares & hobby area are good values, but I have never bought any jewelry from them.
QVC: Probably the largest TV retailer, this station offers the same wide array of products as HSN, plus foodstuffs. They commonly sell thousands of an item with a ticker in the corner showing how many were sold (I guess they hope that reassures buyers?) They mostly sell costume jewelry, some of it high end from the likes of Joan Rivers, Judith Ripka & Kenneth Jay Lane. They have their own in-house brands of vermeil. They have a lot of high end watch shows & some fine jewelry. I have bought housewares, shoes & purses from them & am satisfied with their service. Occasionally, they have fine jewelry & I have bought some simple earrings from them at a reasonable price.
GSN (Gem Shopping Network): Based in northern Georgia for about 15 years, this small, boutique station is at the highest end of the TV jewelry food chain. I freely admit that I am addicted to watching it at all hours of the day. They sell only jewelry & gemstones: very high end estate pieces, items of their own manufacture, close outs from other manufactures & bank foreclosures. Most are one of a kind & it is common to see pieces offered at $50,00- $75,000 or more, with most pieces ranging from $1,000-$20,000. They advertise that they sell to a lot of celebrities & I suspect that they do because they heavily discount prices compared to retail (usually 60%-80% off full retail). Different hosts specialize in different categories. Some of the late night shows feature interesting mineral specimens & fossil items as well. My favorite host & show, "Jewelry Extravaganza with Mike" (usually Tues–> Thurs afternoons into the evening) features high end finished new jewelry as well as estate pieces & some loose gemstones. He always has a "Deal of the Day" that offers something in the $39-$250 range in sufficient quantities for most viewers to get one if desired. The station founder, Frank Circelli, is a graduate gemologist and designs fabulous diamond semi-mounts (rings with the accent diamonds installed, ready for the center stone). He started out selling tanzanite when it first became generally available & the station still sells a lot of high end gemstones. This is a totally interactive show–you see an item on a tray or turntable & call in. The host scans the barcode, all the important information is displayed on the TV screen & the host will show the item from all angles & have it modeled. Interestingly, while their models are attractive women, they don't look like "professional models"; more like your pretty kid sister & most have an ethnic vibe. They frequently auction items & take offers, so you will sometimes hear the host turn off their microphone while negotiating. YOU MUST BE REGISTERED to participate in an auction, which is quick & free, but you can't call in & immediately bid if you are not already registered. It is an education to see all the antique Victorian and Art Deco estate pieces as well as big name designer pieces from the tony estates of south Florida (Palm Beach, Boca & South Beach) as well as Hollywood & Beverly Hills. Some of the Circelli Collection pieces are the most beautiful things I have ever seen anywhere, including the super high end boutique stores (eat your heart out, Tiffany & Bulgari!). I have bought a few (relatively inexpensive) items & have been very satisfied with their service, including one return. They pack the items incredibly well. If you want to return an item, you must call for a return authorization & send it back within ONE WEEK of receipt, which is very strict by industry standards. They don't have their own credit card or offer payment plans like HSN, QVC & Shop HQ, but do offer amazing jewelry at deep discounts. Mike seems to have the best prices, but when they are on a clearance roll, every host is motivated. The sales reps seem knowledgeable & helpful without being high pressure. In such an intimate/interactive setting, I think that is an important issue. Don't buy off the website–call in & negotiate if you see something on the website that you are interest in buying–they will probably pull it out of the vault & put it on air for you.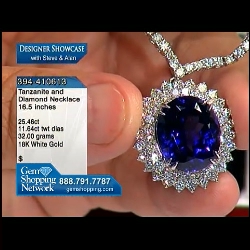 I hope after reading all this, you never pay full retail again on your fine jewelry purchases, unless walking into a fancy brick & mortar store & leaving with a fancy box are really important to you.
Probably no post next week as I'll be stuffing my face with my brother's famous smoked turkey. Have a fabulous & safe Thanksgiving!