Well, it's late Thursday, but still Thursday.  I spent the day loading up for the big Sand Sculpting Show and 3D Art Expo in downtown San Diego this weekend.

Here's a great discount coupon for admission: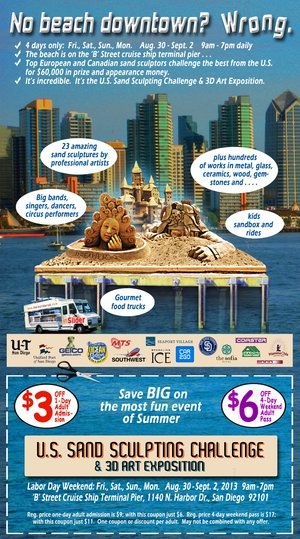 Duncan, my beloved Toyota Highlander Hybrid SUV, is totally loaded up with booth furnishings (if you get the pop culture reference, you are either a sci-fi nerd or born before 1970…)
In other big news: a bout of insomnia this week resulted in my inventing a better (IMHO) way of wrangling your lobster claw clasp bracelets onto your arm. My B.A.D. (=Bracelet Attachment Device) will debut this weekend at the show and soon be on the website as well.
The wind is coming up a bit, but the weather for the weekend looks like the usual sunny Southern California. If you are in town, hope to see you at the "B" Street Cruise ship terminal pier. Wherever you are, have a happy & safe Labor Day Weekend–party on at home or with a designated driver!